What Butch Jones is stepping into at UT
As Tennessee hires its 24th football coach in Butch Jones, let's examine the program's position within the college football landscape and its own history.
Entering the 2013 offseason, the Vols will be preparing for the fifth year of a rebuilding effort that dates back to Fulmer's collapse in 2008. That season was a disaster on many different levels, but most egregiously, it meant that you couldn't call Fulmer's first big hiccup (2005) an abnormality. You see, Fulmer had built enough equity to survive that first losing season. Even with a fanbase that was becoming increasingly restless, the man had twelve years of competitive (and occasionally championship) football on his resume. And then when you take into account his status as the second greatest coach in school history (already proven at that point), you couldn't fire him after one losing season. It turned out to be the right call, as Fulmer brought Cutcliffe back to audition for another head job and made it back to Atlanta in 2007.
But then Phil chose the wrong guy to replace Cut, the 2008 season happened, and that was the end for him. Why? Because he allowed things to unravel twice, and no longer could people argue that 2005 was a fluke. This speaks to Tennessee's barometer for its football program at the time, or its "normal," if you will. Let's see if we can define it further.
Here is a graph of wins by year, starting with Majors' first and ending with Fulmer's last: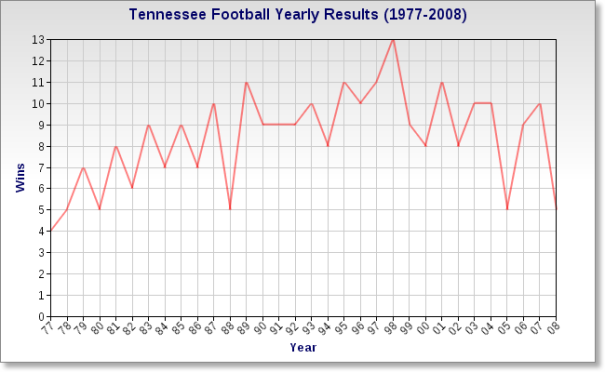 Majors took over for Bill Battle, who couldn't sustain the success he had in his first three seasons (he was 31-5 over that span). Tennessee was looking for an excuse to bring Majors home, and so when Battle went 6-5 in 1976, they made the change. Majors struggled early, but slowly began to elevate the program. He broke through with an SEC Championship in '85, and upon that equity was able to survive a losing season in '88. Heading into the 90's, Johnny really had the ball rolling with back-to-back conference titles, two high profile bowl wins (Cotton and Sugar), and two top ten finishes nationally (5th and 8th). From 1977 to 1989, Johnny Majors elevated Tennessee's "normal" to contending for and occasionally winning the SEC title.
So that was the standard when Fulmer took over. He was expected to at least be in the mix to win the East, and that is something he immediately began to acheive. He won 10 games in his first full season (Shuler's last), and then regressed to 8 the following year when he had to use four different quarterbacks.
The Peyton/98 glory years ensued, and Fulmer raised the bar higher than it had been at UT since Neyland. He placed Tennessee football squarely on top of the college football world again, a position that had become unfamiliar. This was both the best and worst thing that Fulmer could've done, because it elevated his "normal."
All of the sudden, an eight win season (like '94) wasn't acceptable anymore. The 2001 team, for instance, will never be appreciated in Big Orange Country like it should because: 1. The immense disappointment of the SEC title game, and 2. It was sandwiched in between two 8 win seasons that were seen as overall disappointments.
So when 2005 happened, the fact that Fulmer had never won less than 8 games in a season was both a gift and curse for him. His defenders used it to say that the season was a fluke and that it would never happen again. And his detractors used it to say that five wins was so much worse than anything Tennessee had seen since the 80's.
Along comes 2008, basically an exact replica of 2005, and the UT AD had two choices:
1. Accept the fact that Fulmer was slipping and the possibility that his "normal" may no longer be contending for an SEC title every year and occasionally winning one.
2. Fire him.
By firing Fulmer, Tennessee was essentially saying that its football coach, at a minimum, must be in contention in the East every year and give people no reason to legitimately argue that he wouldn't or couldn't be.
Now fast forward to 2012.
Consider the standard upon which Dooley was fired, and how much lower it is. By firing Dooley, Tennessee was saying that its football coach, at a minimum, must, after three years, simply give an indication that he could possibly contend for a division title. And that is the new normal for Tennessee football. That is our standard.
Give us a reason to believe you can contend in the East some day, and you can continue to coach here.
This is why I believe that, despite the rabid, starved-for-wins nature of our current fanbase, Butch Jones can go about his job relatively stress free. He doesn't need to compete for the SEC East next season. He just needs to start giving us reasons (in the form of meaningful wins) to believe that he could at some point.
You see, every college football coach is tied to his predecessor in a way. You read it all the time in stories about new coaches, "New Coach inherits a program that....this and that"
And while Butch Jones is inheriting a program that has been mediocre to bad for a solid half decade, the cupboard isn't bare. Anyone who has watched Tennessee football consistently over the past two seasons, if they are being honest, will tell you that the Vols have vastly underacheived. Derek Dooley, unspectacular as he was on the recruiting trail, has left Butch Jones a team that should be able to have a winning season in 2013 with good coaching.
Which brings me to my final point, and it's one that I've been repeating for the duration of this coaching search (and as far as I know, it's original). It's this: Tennessee is a good-to-great football school. A good coach will make UT good, a great coach will make UT great, and a good coach can become great here.
Derek Dooley was a bad football coach. So what does it say that Dooley had UT on the cusp of being good again? To me, it says that this school and this town put good coaches in position to become great, and can even put bad coaches in position to become good.
I believe Butch Jones is already a good football coach. He has won a conference title in the majority of years he's been a head guy. I believe he will make Tennessee good again. If he never reaches greatness, he'll probably be fired at some point. But luckily for Jones, Tennessee has been mediocre-to-bad for five years, and right now, all we're asking from him is to make "good" our new normal.